Community Choice Aggregation: Clean, Green Energy Is a Just a 'CCA' Away
June 29, 2022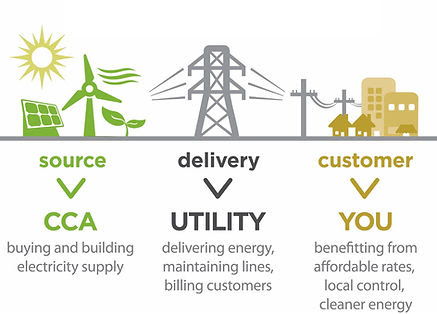 Learn more at our June 29 virtual presentation by Shelly Gordon, state director, Arizonans for Community Choice
Please join Physicians for Social Responsibility and ClimateTucson at a presentation by Shelly Gordon of Tucson, state director of Arizonans for Community Choice, on a green energy solution called Community Choice Aggregation. It's available now. Is Arizona ready?
Wednesday, June 29, 2022
7 p.m.
What if Tucson had an alternative to Tucson Electric Power? A utility that delivered only clean electricity from renewables like solar and wind. A community-based green energy provider that would attack the climate crisis head on. Not eventually freeing itself from dependence on coal and natural gas, but flipping the switch now.
Tucson doesn't have to be a one-utility town because there is such an entity. It's called Community Choice Aggregation (CCA)—also Community Choice Energy—and its formation is being championed by Arizonans for Community Choice, an organization that is spreading the word in Tucson and elsewhere in the state. Sedona is interested.
Another benefit of CCA: It has only one job to do and that's to purchase clean energy. Under the rules that govern CCAs, TEP will continue to deliver the electricity, manage the lines and the grid, and send out bills.
Curious? Then please join us June 29 at 7 p.m. to learn more about CCA and its viability as a major carbon-mitigation solution when Climate Tucson welcomes Shelly Gordon, state director of Arizonans for Community Choice.
Asks Shelly, "As Tucson forges ahead with its climate action plan and an ambitious goal to achieve net zero carbon by 2030, how can city leaders expect to achieve citywide carbon reduction goals if Tucson Electric Power continues to power homes and businesses with carbon intensive fossil fuels — gas and coal?"
CCAs are far from a novelty, now serving more than 30 million customers in 11 states, with interest continuing to grow as more communities seek true green-energy independence.
Photo: Max Nossin / CC BY 3.0 A Message from Martin Fleck, Nuclear Weapons Abolition Program Director, PSR National President Biden is in Hiroshima, Japan,...
Palo Verde Nuclear Generating Plant, Tonopah, AZ This column was generated by a comment sent to me by Richard Rhodes after he read my column...
Insider NJ "Water is life and our communities in the desert depend on shared and clean, safe resources to sustain our lives and health from...